SNMP Device Monitoring
Overview
Cavisson's SNMP based performance monitoring is designed to give you visibility into your network-connected devices, such as routers, switches, servers, and firewalls using SNMP.
Simple Network Management Protocol (SNMP) is an "Internet-standard protocol for managing devices on IP networks. Devices that typically support SNMP include routers, switches, servers, workstations, printers, modem racks, and more. It is used mostly in network management systems to monitor network-attached devices for conditions that warrant administrative attention. SNMP is a component of the Internet Protocol Suite as defined by the Internet Engineering Task Force (IETF). It consists of a set of standards for network management, including an application layer protocol, a database schema, and a set of data objects. SNMP exposes management data in the form of variables on the managed systems, which describe the system configuration. These variables can then be queried (and sometimes set) by managing applications.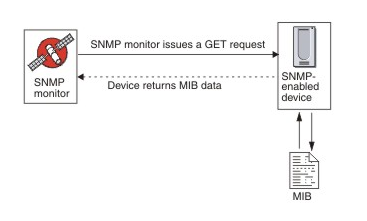 The Cavisson agent collects SNMP data from network devices by polling OIDs, and submitting the responses as metrics. These metrics are then available for visualization, correlation, and alerting across the Cavisson platform so you can easily trace the root cause of the issue. Configure the Agent to collect metrics such as bandwidth utilization, throughput, and up/down of devices.
SNMP Compliant Devices
Since Cavisson uses its generic SNMP monitoring capabilities, it opens up a plethora of options to monitor devices that are from different vendors. Some of the most widely used devices across the industry are compatible with our suite of products and are mentioned below:
SNMP ROUTERS
Some of the most commonly used routers that support SNMP are –
Cisco RV34x Series Router
D-Link DXS 3600 Series-D View 7 Router
Juniper RFC 1215
HP 6600 Series Routers
Nokia 7750 Series Router
Huawei AR Series Router
Avaya 1000 & 3000 Series Router
Arista 7000R Series Router
TP-LINK 11N AP Router
SNMP SWITCHES
Switches that support SNMP are –
Dell N Series Switches
HP 5830 Series Switches
Cisco Catalyst 2960 Series Switches
D-Link DES-1228- WEB Smart Switch
Nokia 7450 Series Switch
Huawei S Series Switch
Avaya 4000 & 5000 Series Switch
Arista 7000X Series Switch
TP-Link 1500 1600 1700 2500 2600 Series Switch
SNMP FIREWALL
Cisco ASA 5500-X Series Firewalls
Huawei USG Series Firewalls
Sophos XG Firewalls
Fortinet FortiGate Firewalls
SonicWall NSA & TZ Series Firewalls
SNMP LOAD BALANCER
Barracuda Load Balancer
HAProxy ALOHA Load Balancer
Citrix ADC Load Balancer
By no means are we limited to the aforementioned list. You can monitor any SNMP compliant device with our generic SNMP monitoring solution and harness the power of the insights you will get to quickly identify the root cause.
Metrics You Can Monitor With Our SNMP Solution
From a host of inbuilt metrics to numerous customizations, if there is a metric that is retrieved via SNMP, we capture it! Below is a list of some of the most commonly used and integral network metrics that we are capturing via our solution:
| | |
| --- | --- |
| Network Delay | Capacity |
| Packet Loss (Pct) | Capacity / Behavior |
| Operational Status | Capacity |
| Transmited packet Discarded | Capacity |
| Recieved packet Discarded | Capacity |
| | |
| --- | --- |
| Transmited packet Errors | Capacity |
| Recieved packet Errors | Capacity |
| CPU Utilization (Pct) of POS | Capacity |
| CPU Utilization (Pct) of corporate office switches | Capacity |
Visualize your SNMP Device Data
Make immediate sense of a multitude of network data via our dashboards and visualizations to quickly spot anomalies for your devices. Below are some examples of visualizations rendered on the back of SNMP data: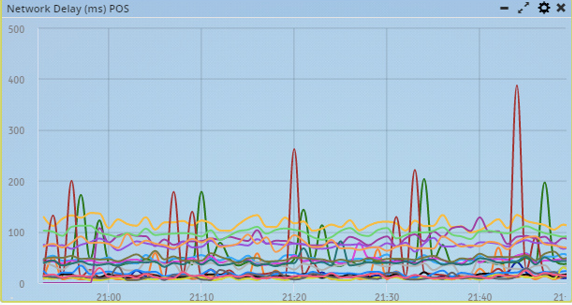 Fig 1: Network Delay Graph

Fig 2: Network Delay in Primary and Seconday Devices
Fig 3: Network Packet Loss Percentage
Conclusion
Using Cavisson, you can not only monitor SNMP device compliant data but also correlate it, visualize it, build alerts on it to derive value from your devices as never seen before. With our End to End monitoring solution suite, you will never miss a pulse of your networking devices' health.