Fremont, CA – 24 May, 2017 – Cavisson Systems Inc, a global leader in performance testing, and monitoring is recognized for excellence and innovation in Application Performance Management (APM) by CIO Review. "Cavisson solution not only runs root cause analysis but also suggests a fix followed by certification of the fix for production", said Vignesh Anatharaj, managing editor, CIO Review.
"It's an honor to be positioned as a leader within APM space. This only validates the value our technology brings to the customers to be successful," said Anil Kumar, chief technology officer, Cavisson Systems.
Cavisson NetDiagnostics is a powerful APM for both lab and production environment. There are several unique features that set us ahead of competition but on a high level what makes NetDiagnostics a preferred choice for our customers is:
Huge data management –

Comprehensive network, system, VM,JVM,DB, service level monitoring
Transaction and finer grained code / method level timing

Powerful multi-way comparison with historical data
Extremely powerful Pattern matching analysis for RCA
Highly Sophisticated & Unique dynamic Load index-based alerts
Extremely powerful diagnostics by correlating customer experience with server data via NetVision and NetForest.
Download the CIO Review APM report, alternatively visit CIO Review to access APM Special – review of Cavisson NetDiagnostics.
For additional information on the APM features please visit NetDiagnostics APM Features webpage. To learn more about Cavisson Systems Inc., visit www.cavisson.com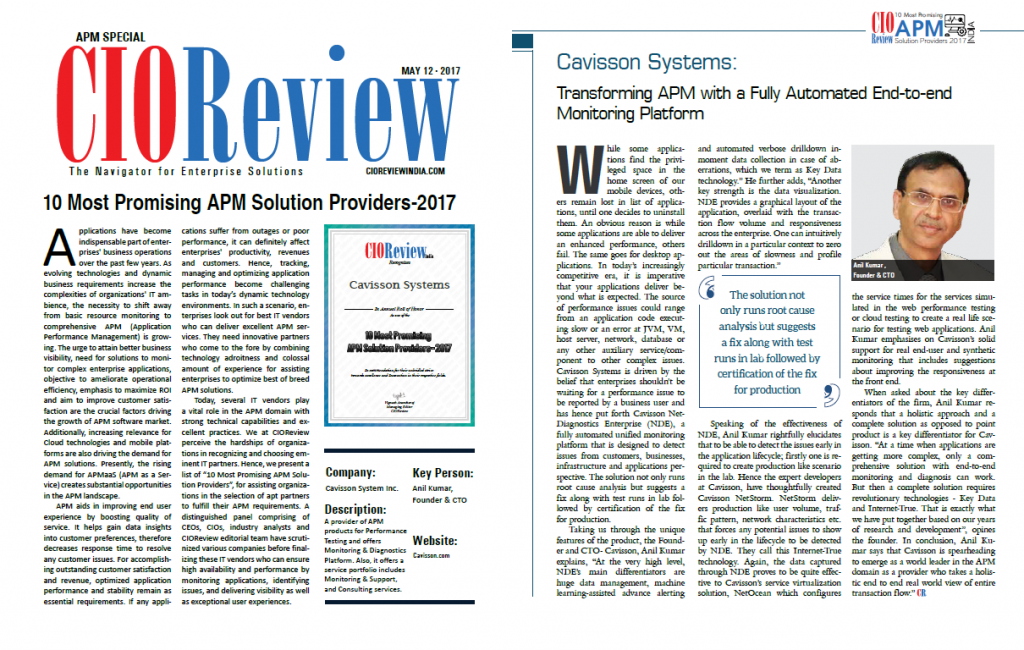 About Cavisson Systems
Cavisson Systems is a silicon valley based software company. Our performance testing and monitoring solution is used by some of the leading banks, retailers, and network service providers and have transformed the way they approach digital transformation and customer experience initiatives. Our product suite ensure maximum quality and availability of their mission critical applications (including desktop and mobile) and directly influence revenue by helping them provide the best possible buying experience to their customers. www.cavisson.com