Cavisson for DevOps
DevOps Benefits with Cavisson
A DevOps environment aims to address the common challenges faced in the industry by increasing how well technical operations and development teams collaborate in order to create an environment signified by a unified team with cross-functional members. The ideology of this structure is to transform the way these teams work together and the way that software is built by bridging the gap between "dev" and "ops". Cavisson incorporates these DevOps practices that aids to work in collaboration, thereby resulting in delivery with maximum speed, functionality, and innovation.
These are the DevOps benefits with Cavisson:
Automate workflows to optimize delivery
Improve performance
Stay alerted for performance/ revenue impacts or operating expenses
Build better and faster
Deliver an exceptional user experience
Grow revenue and contain operational expenses
Performance Engineering Suite
Performance Testing
Monitoring & Diagnostics
NetCloud
SaaS based load generation and performance testing
NetVision
Online Customer Experience (OCX) Management Platform
NetStorm
Capacity Analysis Solution
NetDiagnostics
APM Suite for Lab and Production
NetOcean
Backend Application Simulation and Service Virtualization Solution
NetForest
Log Monitoring and Analysis Solution
NetChannel
Complete Network Simulation Solution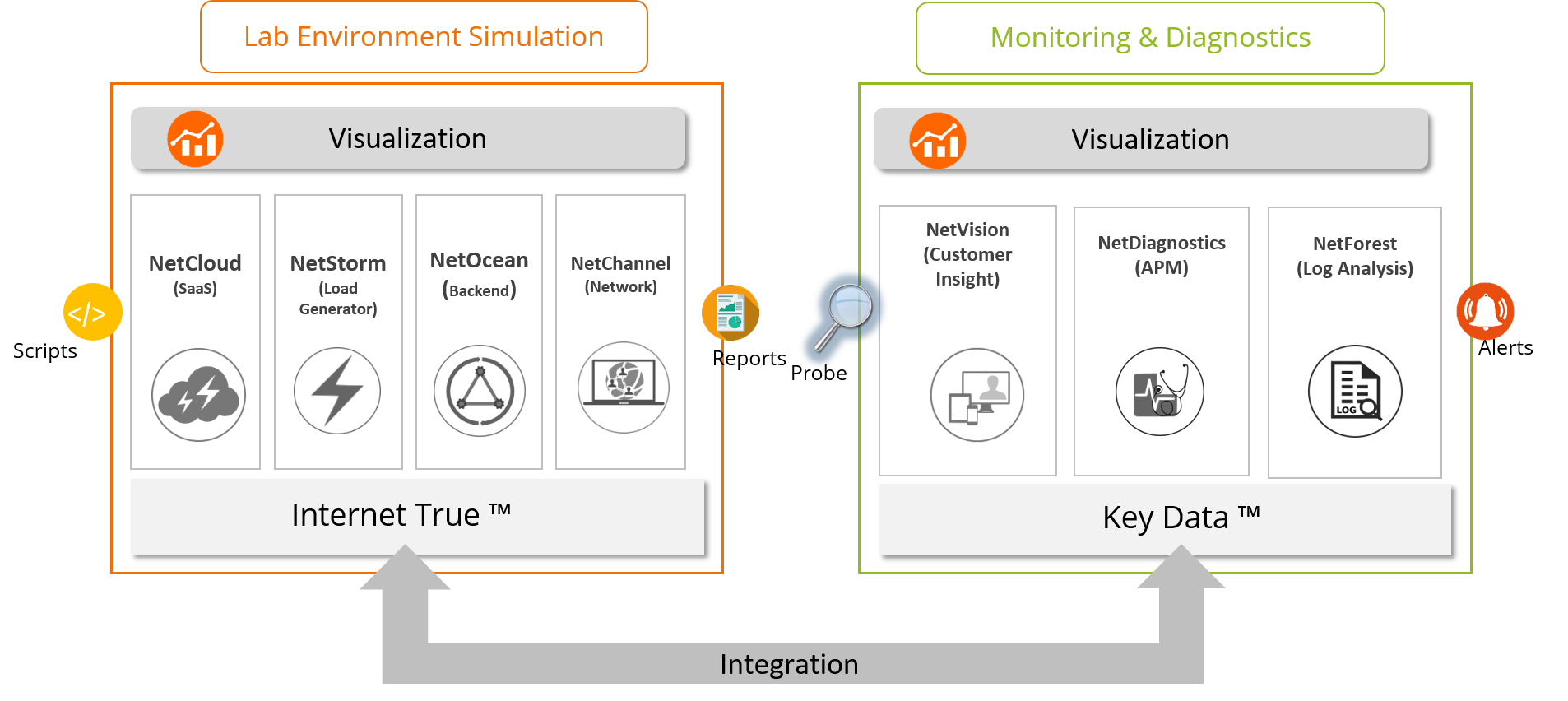 Automate Workflows
Workflow automation is the solution to lost time and inefficient processes. It allows you to minimize the redundant and unnecessary processes. The work flows from person to person, system to system, to the cloud and back without bottlenecks or breakdowns.
| | |
| --- | --- |
| One time configuration | Automate and optimize test setups to contain operational costs |
| Integrated workflows for continuous integration and continuous delivery | Performance test and analyze capacity |
Automate & Optimize / Contain Costs
Simplifies the complexity and makes infrastructure stable and scalable.
| | |
| --- | --- |
| Optimize operational cost using a centralized repository for multi-purpose usage, such as Script, Scenario, default configurations. Eliminates the depencency of specific environment and removes it after the completion of job. | |
Continuous Integration / Continuous Delivery
Improvise the developer workflow by providing rapid delivery schedule with less error prone code.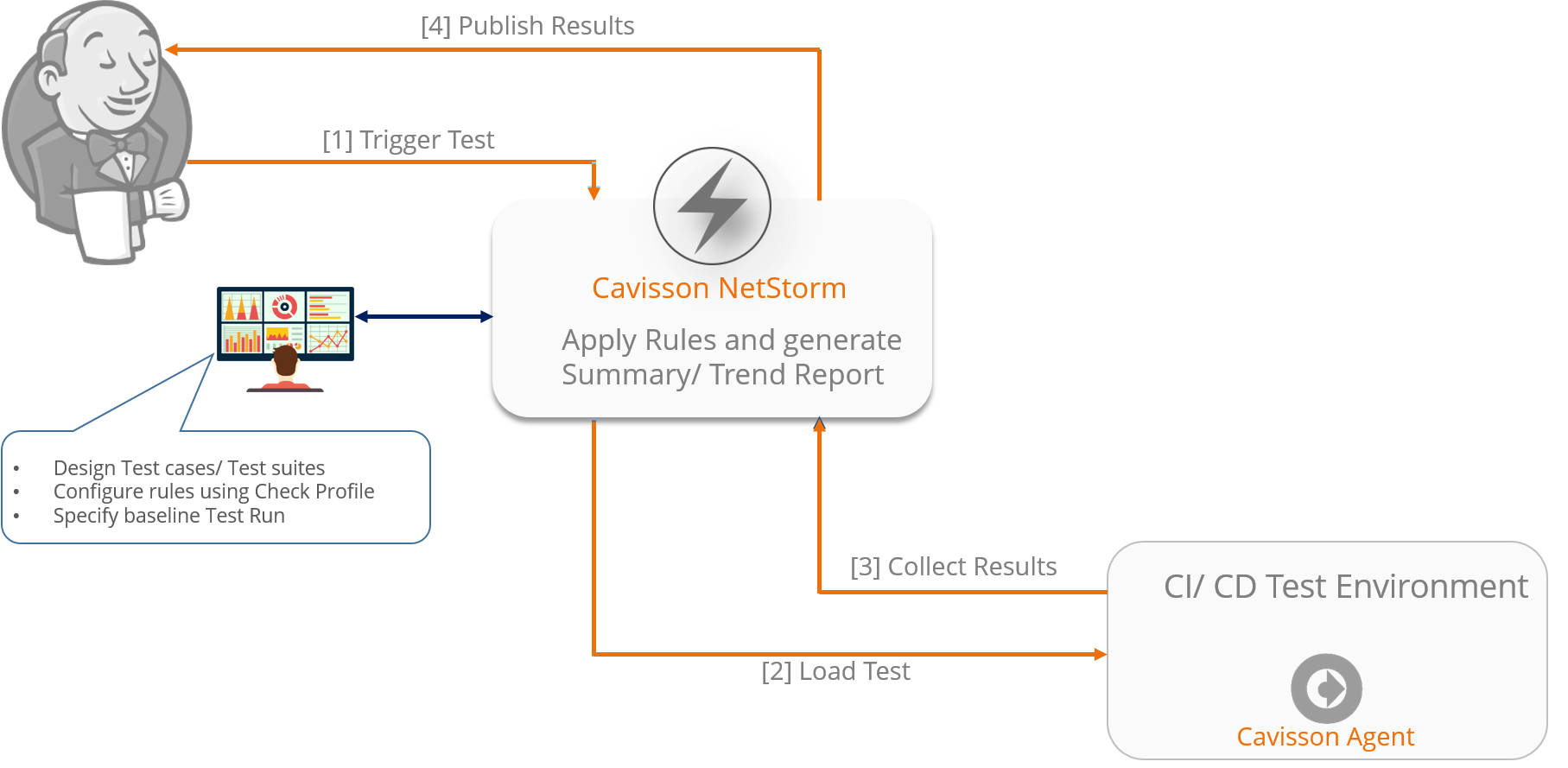 Build Better and Faster
Continuous integration leads faster delivery with rapid executions of Performance test iterations and monitoring of key performance metrics.
Analysis of monitoring metrics for the best results
Continuous delivery enables faster deployment.
Combined automated process enables automated execution using a single platform.



Deliver Exceptional User Experience
Identification and RCA of certain performance issues using end-to-end monitoring (Cavisson Unified APM).
Quick resolution and fixes to the performance issues
Continuous deployment enables user to avail quick updates
Automate Monitoring in Auto-scale Environment

Monitoring across the infra automated



Cavisson APM automates monitoring of newly added components in infrastructure by auto-scaling Cavisson monitoring components such as:


Database
Virtual Machine
Application Instances, and the rest.



Stay Alerted for Performance Impacts

Stay alerted whenever the performance impacts revenue or operating expenses


Real-time testing
Continuous monitoring
Real-time insights into and alerts for a struggling / compromised customer on
An anomaly such as high CPU, memory or response time
Impact on business, revenue or order
Trends and Patterns



Additional Features

Keeps you awake in left shift / right shift cycle using some unique capabilities such as:

Correlated alerts
Predictive alerts
| | |
| --- | --- |
| | Correlated Alerts |
| | |
| --- | --- |
| Predictive Alerts | |
Mastering Success
Flexible Deployment Options


With Cavisson, you have flexible deployment options that will meet your needs today and as you grow. We offer On-Premises, On-Cloud, and SaaS based options.


Ease of Use


Ease of use always ranks highly when it comes to what customers want from a product or service. With Cavisson's performance engineering software, anyone on your application delivery team can perform performance testing, monitoring, analytics, and diagnostics.


Express ROI


Cavisson believes in investing in DevOps because it not only just integrates seamlessly with release cycles but also accelerates them. The Shift Left philosophy is defect prevention rather than defect detection in the delivery of a project. This entails a faster return of revenue.


Massive Scalability


Cavisson emphasizes on the importance of cloud computing to meet the growing demands of scalability.

Scalability of the tools and apps
Continuous optimization of the tools and apps – by adjusting to changes in server, bandwidth, and storage capacity
No data retention restriction by design or licence

End-to-end Visibility




Client side
Network
Application / Server
Database
Infra components
Code