Getting Started with NetForest
NetForest comprise an analytics and visualization platform. NetForest is used to search, view, and interact with data stored in NetForest indices. User can easily perform advanced data analysis and visualize the data in a variety of charts, tables, and maps.
NetForest makes it easy to understand large volumes of data. It is simple, browser-based interface enables a user to quickly create and share dynamic dashboards that display changes to NetForest queries in real time.
Login to NetForest
Follow the below mentioned steps to login into NetForest:
Enter the following URL (http://hostname/netforest) at the address bar of the browser and press ENTER. The NetForest login window is displayed.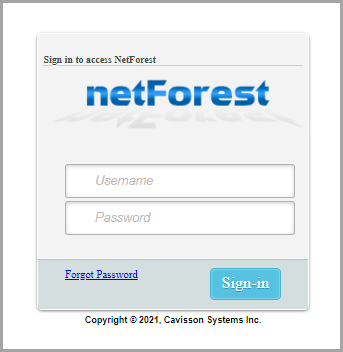 2. Enter the Username and Password and click the Sign-in button. The NetForest Home page is displayed, which is by default, the search page.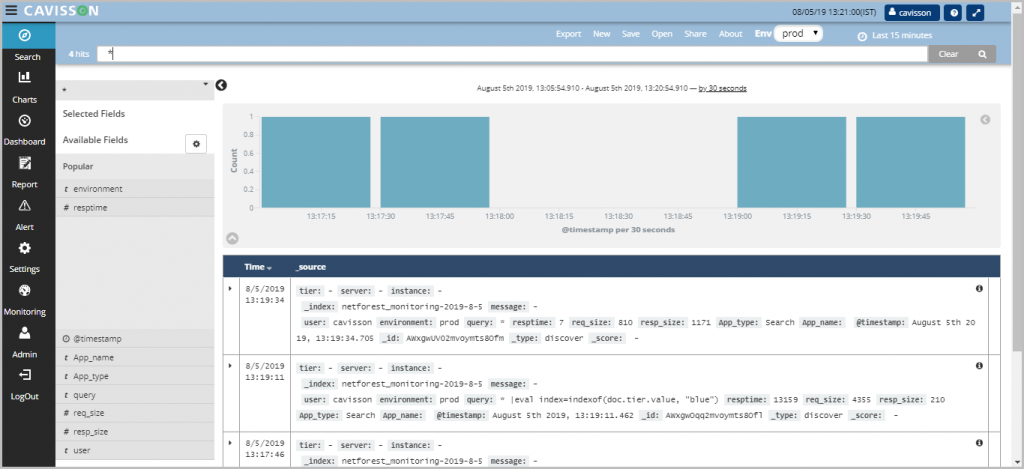 NetForest Home page consists of a left navigation pane that contains menu items, such as Search, Charts, Dashboard, Report, Alert, Settings, Monitoring, Admin, and LogOut. There is a toolbar at the top that contains some other settings such as Export, New, Save, Open, Share, and About. Other related information, such as dashboard, charts, log details is displayed on the right panel.
Note: Clicking the 'About' button on the toolbar displays the build/version of the NetForest UI such as the one in the image below.

In the subsequent topics, a detailed description of the all the sections and its features is provided:
| | |
| --- | --- |
| Icon/Button | Description |
| | Search enables a user to search data throughout NetForest and display it on the document table. |
| | The chart enables a user to create a graphical representation of the data in NetForest indices. |
| | NetForest Dashboard displays a collection of saved charts. |
| | This allows a user to schedule and generates the reports |
| | Alert enables a user to be notified of an issue. |
| | Settings allow a user to perform some configuration on various aspects, such as index pattern, saved objects, advance settings, and dashboard menu. |
| | Monitoring allows a user to view/monitor various indexes and other information. |
| | Used to manage users. |
| | Using logout, the user can exit from the NetForest system. |
Multi-Environment Support
NetForest provides support for multi-environment. User can select an environment from the drop-down list to get the logs of the specific environment. The results are displayed based on the environment selected.