Getting Started
NetDiagnostics configuration settings can be performed from NetDiagnostics Configuration window, which can be accessed from the NetDiagnostics Graphical User Interface (GUI) itself. Follow the below mentioned steps to get started with ND configuration window.
Login to NetDiagnostics, the NetDiagnostics Home page is displayed. Go to the Configuration menu item and click Agent Config.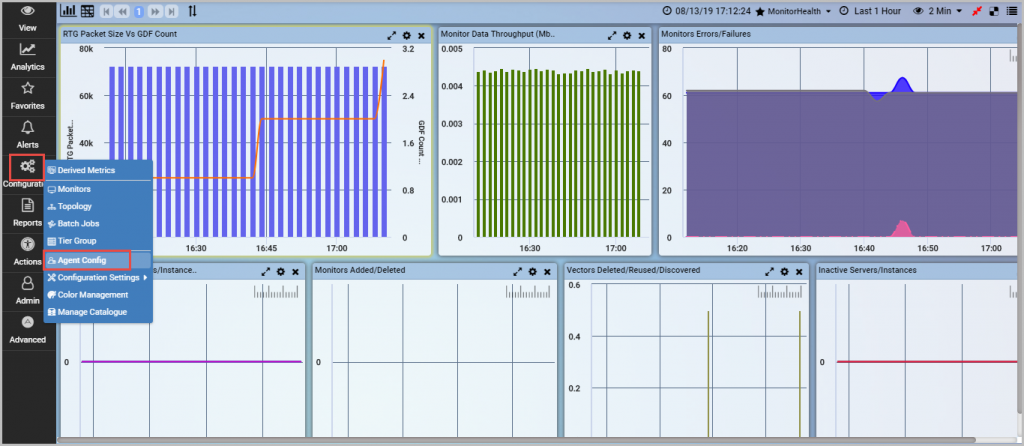 The ND Configuration window is displayed:

Layout of Config GUI
ND Configuration window is divided into two panes – left pane and right pane. Left pane consists of a menu from where, on clicking it, the corresponding details are displayed on the right pane. From right pane, user can configure the application, profile, and instrumentation profile. User can also view the complete list or top five topologies from the Topology list section. Application list, profile list, and topology list is displayed on right pane by default. This can also be achieved by clicking the Home menu on the left pane.
Left Pane/Menu
Home
Application
Profile
Topology
Instrumentation Profile Maker
Instrumentation Finder
NDE Cluster Configuration
User Configured Settings
Download Agent Logs
Audit log
Right Pane
Application list
Profile list
Topology list
Run Time Changes
There is a toggle button to make the changes online/offline. To make the changes online, enable the toggle button. All the changes are executed online.


On disabling the toggle button, all changes are saved offline and are activated after enabling the toggle button.
Note: When a test is running and a user makes any changes in a profile, run time changes are applied for all the connected instances in the application. The change in the profile is denoted by a green dot against the profile name as displayed below: